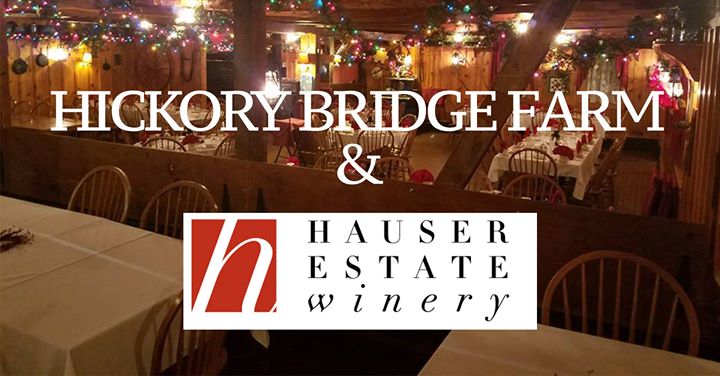 Hickory Bridge Farm Dinner Night
Pine Ridge Campground has organized a dinner & winery night out. On April 21st at 4 PM join us at Hickory Bridge Farm for a family style dinner. The dinner for the night is Roast Pork Tenderloin with apple dressing, Oven Fried Chicken, & Crab Imperial. The meal is unlimited all you can eat the entrees. The meal also includes your salad, with bread, spiced peaches, corn fritters, 2 other veggies, and potatoes. Desert is also included with about 5-6 different choices. Drinks include tea, lemonade, water, & coffee. Beer & wine is additional but available.
The cost is $36 and this includes the adult price of $27.95 + tax & gratuity + credit card processing fee. Payment will be due in advance to guarantee your reservation & seating. Tickets will be available to purchase shortly and will be available to purchase up until April 13th. The final count must be submitted to Hickory Bridge Farms by us on April 14th.
We look forward to this dinner with all of our Pine Ridge Campground family!
After dinner, anyone interested is welcome to join us at Hauser Estate Winery for a night of entertainment & drinks. Hauser allows you to purchase wines at cost & enjoy their onsite location. You're also welcome to bring in small apps to enjoy with your wines & ciders.
We hope to see everyone on April 21st!